World Health Organization (2014): Cancer cases could explode in the next 20 years.
National Health Institute (2007): 1 in 2 men and 1 in 3 women in the U.S. will develop cancer in their lifetime.
Cancer Research UK (2015): 1 in 2 people in the U.K. will get cancer at some point in their lives.
Cancer Australia (2017): It is estimated that the risk of an individual being diagnosed with cancer by their 85th birthday will be 1 in 2.
Scientists: We Will Never Find a Cure for Cancer
Dr. Jørgen Olsen, Head of Research at The Danish Cancer Society (2016):
"If all of the positive cancers breakthrough headlines are to be believed, then the cure for cancer is right around the corner. But that is a far cry from reality."

Learn More

Professor Melvyn Greaves, a Fellow of the United Kingdom Academy of Medical Sciences, and Director of the Centre for Evolution and Cancer (2014):
"Developing more advanced cures would only lead to cancer cells becoming more resistant to treatment… Scientists should focus on prevention."

Learn more
The United Nations and WHO called for multi-pronged preventive action
Global battle against cancer will not be won with treatment alone. Effective prevention measures are urgently needed to prevent cancer crisis.

(Learn more)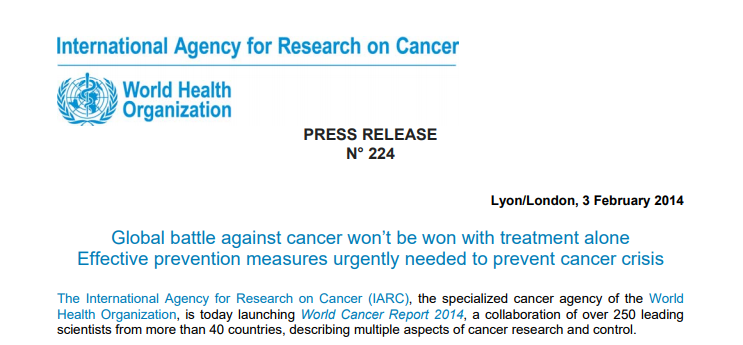 Know your enemy, know yourself. A thousand battles, a thousand victories. ~ Sun Tzu